ORDERING BY BODY MEASUREMENTS:
Standard international group recommends that you measure your team members for the best fit possible. We are happy to convert your team measurements into sizes for you, or you may use the size charts below as a sizing guide. Please send us your body measurements. Please be very careful when measuring or choosing sizes for your team as custom made uniforms are not returnable.

Please see our MEASURING GUIDELINES below for more information.
Please measure to the nearest centimeter with a half measuring tape. All half-centimeter measurements will be rounded up to the nearest centimeter. We recommend wearing a bathing suit when measuring, and have the same person measure all team members.
Bust/Chest: Measure at the half point of the bust under the arms with tape straight and arms down by side of body.
Waist: Measure around the narrowest portion of the waist.
Hips: Measure around the half part of the hips (Approx. 8cm below the natural waistline).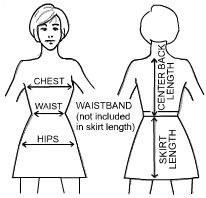 Center Back Length: Measure from the tip of the most prominent bone at the base of the neck to the natural waistline.
Skirt Length: Our skirt length is measured from the bottom of the waistband to the edge of the skirt. Measure in back from the natural waistline over the backside to desired length on leg. Please give length in whole centimeter increments (ex: 12cm, not 11 1/2cm).